How to Keep Your Cool When Your AC Needs Emergency Service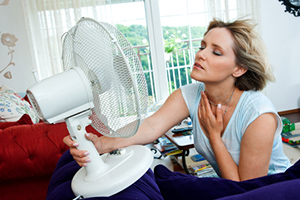 It's the peak of West Columbia summer heat, you wake up in a sweat and realize that's not cool air blowing out of your HVAC registers. In fact, there doesn't seem to be any air blowing at all. One look at the numbers on the thermostat and it is pretty obvious your AC isn't working and apparently hasn't been for some time.
As a homeowner, one of your responsibilities is to take care of your household, including the family members inside. Obviously, your first immediate reaction is to find a way to get your cooling system working again, in order to maintain the comfort and health of your loved ones. Here is how you should handle the situation, in order to get prompt and professional relief.
Springing Into Action
So your air conditioning system doesn't appear to be working, here is what you should do next:
First and foremost, as obvious as it sounds, check the thermostat. You would be surprised how many homeowners have called us out only to forget they shut the thermostat off or turned it way up. Also, make it a point to make sure that your home is not suffering an overall power outage. If that is the case, check with your energy supply company to see when the issue may be resolved.
From there, the next place to check is the breaker. When you are half asleep and panicked, it can be easy to overlook the obvious. If it is possible to find a quick fix, that doesn't require a trip charge, better to find it for yourself, early on.
In order to prevent ill health, make it a point to break out the floor fans and get your family members cooled off. This is especially true for seniors, children, pets or anyone suffering from any health problems. Better to get a system in place before the inside of your home gets too hot.
Do not make the mistake of attempting to DIY any repairs. Emergency AC service is work that is best left to industry experts. Trying to work on your own cooling system could make things worse o even end up resulting in injuries.
Trust the Local Experts
Make the wise decision to call on Richardson's Heating & Air, in order to get the best service possible. We are available for your service needs, including when your AC needs emergency service. So give us a call the moment that you notice your system seems off, and let our air conditioning company provide you with the repairs that you need.
If you are looking for emergency AC services services, please call 803-345-5221 or 803-945-9620. You can also complete our online request form.