Local Furnace Repair Services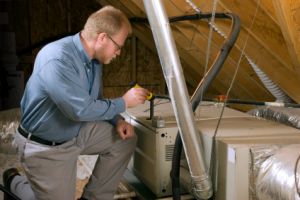 When you find yourself in need of furnace repairs, the first thing that you have to do is figure out which local heating contractor to call on, in order to get professional service. This is why savvy home and business owners make it a point to find out this type of information, prior to having an emergency. It is also why so many locals end up calling on the team here at Richardson's Heating & Air, in order to get the work taken care of.
For well over three full decades now, we have been the preferred local service provider for residential and commercial heating and cooling service needs. We offer the finest in repair work, for a variety of types of heating systems, including all kinds of major brands. You will be glad to know that we stand behind the work that we do and that includes making it a point to guarantee your satisfaction.
Simply put, we offer you the level of quality work we would want for ourselves, if not better. We also provide you with service so good, you would feel confident letting your mom call us. It's about genuinely caring about the work we do, especially the customers we work for.
Furnace Repair Experts
Let's face the facts, there are countless reasons why your furnace may end up in a state of disrepair. Our job is to take the minimum time required to identify the problem and then masterfully fix it. There are, however, a number of repair issues that seem to come up more often than others.
A few examples of these are:
One of the biggest trouble making culprits for furnace problems, also happens to be one of the most preventable ones. Your filters should be changed every month. Failing to do so will result in restricted or blocked airflow, which can shut your system down completely.
The thermostat is the brain of your furnace. If it stops working, so will your heating system. Always make it a point to check that the thermostat has not been shut off; you would be surprised how many times that happens.
Of course there are plenty of other causes, these are just a few instances.
Best Local Furnace Repair Service Around
For the best in local service, call on Richardson's Heating & Air to get the job done. We work hard to get the expert results that we do and look forward to helping you get the service that you want. Get in touch with us today in order to get your furnace repairs quickly addressed.
Latest Articles
Poor Air Quality Symptoms & Getting Proactive About Change

The average home could use serious help improving the indoor air quality. Unfortunately, not enough homeowners take this topic seriously enough and end up living with poor to terrible air quality. Knowing the symptoms can be a real eye opener because people realize…

Read More


Is Your Heating System Winter Ready?

It can be easy to miss that transition from summer to fall. Before you know it, lazy summer beach days are replaced with school days and you're already counting down the days to next summer. Yet, the problem is that if you fail to stay proactive about getting service for your heating system, it is going to be winter before you know it.…

Read More
If you are looking for furnace repairs or other heating services, please call 803-345-5221 or 803-945-9620. You can also complete our online request form.