Air Conditioning Installation Service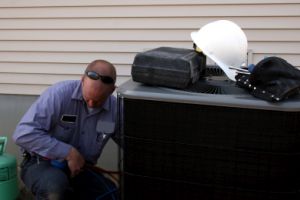 Getting the best in air conditioning installation is a vital part of making sure that you achieve peak performance and optimal longevity. This is why smart home and business owners know to call on Richardson's Heating & Air. Since 1982 our air conditioning company have been earning the experience needed to offer the finest in quality workmanship, as well customer service excellence.
The best part is that we offer all of this but at a more than reasonable cost. The bottom line is that our best interest is your total satisfaction. We take great pride in the work that we do and that is evident from the results that we are able to get for each of our customers.
The installation of your cooling system is the most vital step; this is what sets you up for success for years to come. Settle for cheap and inferior labor and you will end up getting exactly what you pay for, as well as regretting it. Get in touch with us today and let us show you what a difference true quality makes.
Air Conditioning Installation Experts
If you are not yet aware of the consequences that you can expect if you opt for shoddy workmanship, here are some of the problems that you will face:
You will end up having repair needs, and much earlier on than you should. Part of the reason for getting a new system installed is to do away with the need for repairs. Yet, if your system is installed improperly, you are still going to end up saddled with repair needs.
That new energy efficient system that you invested in will not end up performing as intended. Modern systems are meant to be more efficient so you can save money on your energy bills, and be more Eco-friendly. If it is not hooked up correctly, however, it will be unable to deliver.
The worst part is that you are also going to end up replacing your air conditioning system, long before it should be time. The last thing that you want is to have to think about spending money on a replacement system again, for at least 15 years or more. Unfortunately, a poorly installed system won't last that long.
Best Local Air Conditioning Installation Service Around
When you are ready to call on a crew to address your need for your air conditioning installation work, call on Richardson's Heating & Air. We take this line of work seriously and that is evident from the results that we are able to provide for you. Call us now to get your service set up.
Latest Articles
Poor Air Quality Symptoms & Getting Proactive About Change

The average home could use serious help improving the indoor air quality. Unfortunately, not enough homeowners take this topic seriously enough and end up living with poor to terrible air quality. Knowing the symptoms can be a real eye opener because people realize…

Read More


Is Your Heating System Winter Ready?

It can be easy to miss that transition from summer to fall. Before you know it, lazy summer beach days are replaced with school days and you're already counting down the days to next summer. Yet, the problem is that if you fail to stay proactive about getting service for your heating system, it is going to be winter before you know it.…

Read More
If you are looking for an air conditioning installation company, please call 803-345-5221 or 803-945-9620. You can also complete our online request form.