Expert Heating Installation Company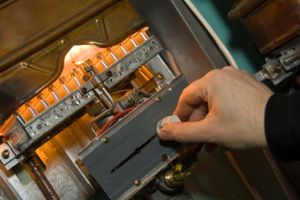 Few people realize the true importance of getting the best in heating installation work. There is no cut and dry method for installation work, which means this still leaves room for error – plenty of room, in fact. Local home and business owners know that if you want the job done 100% accurately, the name to call on is Richardson's Heating & Air, and has been since 1982.
The install job is what sets the foundation for how well your system will or will not work, for years to come. In other words, this is not the type of work that you want to take a gamble with. No matter how high quality the heating system is that you pick out, it will only work as well as the installation work invested into it.
Too many homeowners think that they are making a wise choice by spending top dollar on a top-of-the-line heater, and then cutting corners with deep discounted install work. The end result will leave you less than satisfied, to say the least. If what you seek is peak performance and maximum longevity, let our heating contractors handle the service work for you.
Heating Installation Experts
What is the big deal? What will happen if you end up settling for inferior and shoddy installation work for your heater? A few of the negative symptoms include:
Almost right away you will end up needing minor repairs. A new system, when properly installed, should be free and clear of repair needs, at least for several years.
The new, more energy efficient system you selected will end up not being as efficient as you had hoped. So, instead of saving you money on monthly energy costs or making your heating system more Eco-friendly, you will end up with higher utility bills and still leaving a sizable carbon footprint.
Unfortunately, this is also one surefire way to end up needing replacement again, long before it should be time. Your heater will have to work much harder to get the job done, which ends up causing it to take a beating.
The bottom line is that you are going to regret settling for sub par work!
Best Local Heating Installation Service Around
Richardson's Heating & Air is proud to be the top choice for local heating installation work. For well over 30 years now, we have been going above and beyond to do what it takes to get the job done. We look forward to working with you and providing you with the superior service and results that you should b able to get.
Latest Articles
Poor Air Quality Symptoms & Getting Proactive About Change

The average home could use serious help improving the indoor air quality. Unfortunately, not enough homeowners take this topic seriously enough and end up living with poor to terrible air quality. Knowing the symptoms can be a real eye opener because people realize…

Read More


Is Your Heating System Winter Ready?

It can be easy to miss that transition from summer to fall. Before you know it, lazy summer beach days are replaced with school days and you're already counting down the days to next summer. Yet, the problem is that if you fail to stay proactive about getting service for your heating system, it is going to be winter before you know it.…

Read More
If you are looking for heating installation services, please call 803-345-5221 or 803-945-9620. You can also complete our online request form.