Heat Pump Repair Company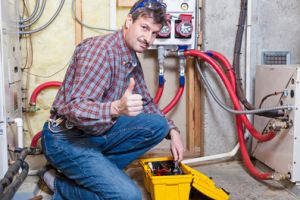 No matter what type of heating system you have, you are eventually going to need professional service, including the need for heat pump repairs. Many home and business owners prefer the quality of heating that they get from this type of system. Smart locals also prefer the quality of service that Richardson's Heating & Air provides for heat pump repairs and other services.
Since 1982, our heating contractors have been offering the best in local service for both residential and commercial customers. The heat pump is a vital element of your HVAC system; it literally does exactly what the name would imply. In the winter this system pumps heat into your home and in the summer it pumps heat from the inside of your home.
It is important to us to be able to provide this service for locals, and help them with the temperature control they need. Keeping your interior space heated is about more than comfort, it is about protecting the health and well-being of anyone inside the home or business. We want to be a part of helping to make this happen for you.
Heat Pump Repair Experts
There are plenty of reasons why some people prefer heat pumps, such as enhanced energy efficiency. There are also common repairs needs that tend to crop up, that you should be aware of, in relation to this type of heating source:
You may notice that your heat pump fails to produce the level of heat you want, or any heat at all. There are a few things that could be the cause of the problem, such as obstructed air ducts. This can even be due to dirty or clogged air filters, so make it a point to change yours each month.
The thermostat acts as the brain of your system but if you end up having problems with it, your system will fail to work properly, or at all. Make it a point to check that the thermostat is on, and set to the right temperature, before calling in a professional heating contractor.
Also, if you notice your system is making noise, it is important to act accordingly and call in an expert.
Best Local Heat Pump Repair Service Around
The important thing is not to put off getting the service that you need, when you know or suspect that you are in need of heat pump repairs service. Richardson's Heating & Air can provide you with the best in quality service work, but not unless you reach out to us. For prompt and professional service, you can count on our pros to get the job done.
Latest Articles
Poor Air Quality Symptoms & Getting Proactive About Change

The average home could use serious help improving the indoor air quality. Unfortunately, not enough homeowners take this topic seriously enough and end up living with poor to terrible air quality. Knowing the symptoms can be a real eye opener because people realize…

Read More


Is Your Heating System Winter Ready?

It can be easy to miss that transition from summer to fall. Before you know it, lazy summer beach days are replaced with school days and you're already counting down the days to next summer. Yet, the problem is that if you fail to stay proactive about getting service for your heating system, it is going to be winter before you know it.…

Read More
If you are looking for a heating expert for your heat pump repairs, please call 803-345-5221 or 803-945-9620. You can also complete our online request form.