Chapin Heating Contractor Services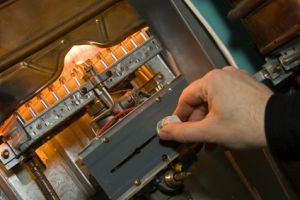 When it comes to getting quality service for your Chapin heating service needs, the name to call on is Richardson's Heating & Air. We take great pride in the work that we do and make it a point to treat each of our clients the way that we would want to be treated, if not better. In fact, we like to say that we will take such good care of you, you would feel confident letting your mom call us for service.
As a family run business, our heating contractors know the importance of keeping your household cozy and comfortable. It is also about making sure that it is an environment that promotes safety and well-being. Since 1982, our focus has been on making that happen for local residential and commercial clients.
We offer installation, repairs, tune-up work and replacement, for a wide variety of makes and models. Let us provide you with the workmanship you need and at the level of superior quality that you deserve. You will be able to notice a difference in the level of dedication we extend to taking care of each and every one of our customers.
Finest Air Conditioning Contractor Services in Chapin
The good news is that we can also provide you with the level of quality air conditioning service that you need, in order to keep your cooling system up and running. Having functional air conditioning is not merely a luxury, it is a necessity. The bottom line is that we want to be a part of getting you the service you need, so that you know that you system will continue to run, at peak performance, for years to come.
The problem is that too many people wait for something to go wrong, in order to call for maintenance work. We try to encourage our customers to opt for air conditioning tune-up work, in order to catch a problem before it develops, or at least in the early stages. Don't keep putting off until another day, what we could be taking care of for you today.
Learn More About Improving Your Indoor Air Quality
At Richardson's Heating & Air, we are also dedicated to providing our clients with the best in indoor air quality work, such as:
Air Cleaners – This system purifies the air and makes it cleaner for you and your loved ones.
Humidifiers – Reintroduce moisture into an otherwise arid environment.
UV Light Air Treatment – The same system hospitals rely on for killing off contaminants like bacteria, you can have in your home.
Latest Articles
Poor Air Quality Symptoms & Getting Proactive About Change

The average home could use serious help improving the indoor air quality. Unfortunately, not enough homeowners take this topic seriously enough and end up living with poor to terrible air quality. Knowing the symptoms can be a real eye opener because people realize…

Read More


Is Your Heating System Winter Ready?

It can be easy to miss that transition from summer to fall. Before you know it, lazy summer beach days are replaced with school days and you're already counting down the days to next summer. Yet, the problem is that if you fail to stay proactive about getting service for your heating system, it is going to be winter before you know it.…

Read More
If you are looking for a Chapin air conditioning or heating professional, please call 803-345-5221 or 803-945-9620. You can also complete our online request form.