Air Conditioning Repair Contractors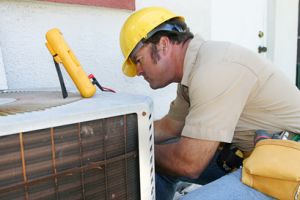 At some point, you are going to end up needing air conditioning repairs. The choice that you have is to go with the best, or settle for the rest. When quality matters, as it always should for your home or business, you can trust in our air conditioning company, Richardson's Heating & Air to get the job done.
We take great pride in the work that we do and in the 30 plus years of expertise we have invested into this line of work. More importantly, we are dedicated to providing our clients with the best in quality customer care, which is evident from the customer satisfaction rating we have earned. The bottom line is that our focus is on getting your work done, in a prompt and professional manner.
We want to be a part of helping you get the most out of your system, which is why we offer installation, repairs and replacement. We stand by the work that we do which is how we have earned the impeccable reputation that we have. Get in touch with us now and rest assured that you are getting the topnotch service you deserve.
Air Conditioning Repair Experts
While there are certainly a wide variety of types of repairs that you can end up needing for your air conditioner, some of the most common ones are often unavoidable. Some examples of these include:
When was the last time that you changed your air filter? Did you even know that you should be changing it every single month - especially during peak usage periods? Dirty filters restrict and eventually block the airflow. This will hinder your system's ability to perform well or, eventually, at all.
Neglecting to get maintenance, such as tune-up work, is another way to end up needing repair service. It is important to let a professional provide you with ongoing service, in order to keep an eye on the condition of your air conditioning system. Don't make the mistake of waiting until your system breaks down, to realize that you need service work.
Schedule maintenance, address repair needs in a timely fashion, and you are likely to be able to get a long life from your cooling system.
Best Local Air Conditioning Repair Service Around
Richardson's Heating & Air is the only name that you need to know, when it comes to top-of-the-line quality air conditioning repairs. Let us work with you to provide you with the quality of service that you need, in order to keep your air conditioner up and running. We look forward to partnering with you in order to make sure that you are happy with the service you receive.
Latest Articles
Poor Air Quality Symptoms & Getting Proactive About Change

The average home could use serious help improving the indoor air quality. Unfortunately, not enough homeowners take this topic seriously enough and end up living with poor to terrible air quality. Knowing the symptoms can be a real eye opener because people realize…

Read More


Is Your Heating System Winter Ready?

It can be easy to miss that transition from summer to fall. Before you know it, lazy summer beach days are replaced with school days and you're already counting down the days to next summer. Yet, the problem is that if you fail to stay proactive about getting service for your heating system, it is going to be winter before you know it.…

Read More
If you are looking for air conditioning repair services, please call 803-345-5221 or 803-945-9620. You can also complete our online request form.