Air Conditioning Tune-Up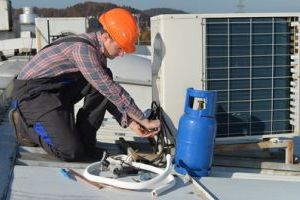 Although air conditioning tune-up work is one of the most important tasks you can address, in order to keep your cooling system up and running, not enough people get this work scheduled. At Richardson's Heating & Air, we have made it our mission to help make sure that our clients take this seriously. We work with both residential and commercial customers, partnering together to improve the functionality of your system.
One of the key elements responsible for making this possible, is ongoing maintenance work. A tune-up enables one of our pros to take a look at your cooling system "behind the scenes," affording them the ability to look for any problems or repair needs that should be dealt with. This is truly the key to offering you maximum longevity and optimal performance.
Since 1982, our Air Conditioning company has been earning experience by working hands-on in the industry. This is why we are able to offer the quality service we do, as well as earn the impeccable reputation we have. Get in touch with us today in order to get started on your project needs.
Air Conditioning Tune-Up Experts
If you are still on the fence about whether or not a tune-up would be valuable to your system, here are some things that you should be aware of:
Even newer systems require tune-up work. This is not just about keeping an eye on the performance, it is about maintaining the warranty. Fail to get your required maintenance work and you are going to void out the warranty and be left to pay for your repair needs, out of your own pocket.
Sure, your air conditioning is working, but could it be performing better? A tune-up is a way to make adjustments that will enhance the operational capabilities of your cooling system. This is great news for your monthly energy bills.
Obviously, this is also about maximizing the longevity of your system. Tune-ups help keep your system running, but also at peak performance. The key to success for performance and a long lifespan is getting tune-up work.
Make it a point to call on our pros, in order to get the most reliable service there is.
Best Local Air Conditioning Tune-Up Service Around
Richardson's Heating & Air genuinely cares about the clients we work with. We want to be a part of helping all of our clients avoid repairs. A tune-up is a much more cost-effective alternative to waiting for major repair needs to crop up.
Latest Articles
Poor Air Quality Symptoms & Getting Proactive About Change

The average home could use serious help improving the indoor air quality. Unfortunately, not enough homeowners take this topic seriously enough and end up living with poor to terrible air quality. Knowing the symptoms can be a real eye opener because people realize…

Read More


Is Your Heating System Winter Ready?

It can be easy to miss that transition from summer to fall. Before you know it, lazy summer beach days are replaced with school days and you're already counting down the days to next summer. Yet, the problem is that if you fail to stay proactive about getting service for your heating system, it is going to be winter before you know it.…

Read More
If you are looking for reliable air conditioning tune-up services, please call 803-345-5221 or 803-945-9620. You can also complete our online request form.