Professional Heating Tune-ups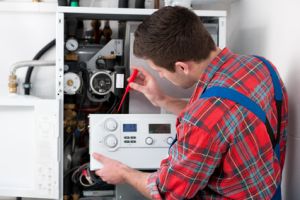 One of the most important jobs for your heating system, often happens to be one of the most neglected ones. Heating tune-ups are a vital step to take in order to ensure the performance and longevity of your heating system. And the heating contractors here at Richardson's Heating & Air is more than eager to help you gain a better understanding of why this is true.
Having a heating system is not enough, there is a great deal of care and maintenance that must be invested into it, in order to have a long and fruitful lifespan. Neglecting to put any effort into caring for it is only going to end up causing the system to breakdown, and much sooner that you could ever predict. Don't take chances with your residential or commercial heating system.
Since 1982, we have been providing our clients with the finest in quality workmanship including exceptional customer service. Your job is our top priority and your satisfaction is our number one goal. Let us help you get the long term service and topnotch performance from your heating system by addressing the need for a tune-up.
Heating Tune-Up Experts
If you are not completely sure if you need a tune-up, here are some things that you should know about getting this type of service:
For a newer system, your warrant demands this for upkeep. In order to keep your warranty from becoming voided out, make it a point to get this mandatory service set up. Otherwise, if something goes wrong, you will be left stuck paying for it out of your own pocket.
Obviously, you want your system to run as efficiently as possible. In order for your system to be energy efficient, it has to be in proper working order. A tune-up will help make this possible, which will make your home more environmentally friendly, as well as save you money on your monthly energy bills.
Of course, the last thing that you want is to have to get a heating replacement, long before it is supposed to be time. This is an expensive job and, with proper care, can be avoided. However, bypass getting tune-up work and you are at a much higher risk of running into this kind of issue.
Best Local Heating Tune-Up Service Around
Get the service that you need and the results that you deserve by calling on our experts here at Richardson's Heating & Air. Let us provide you with the quick and concise work that you need, so you can continue to get peak performance from your heater. Sign up now for heating tune-up service and get the most out of your system.
Latest Articles
Poor Air Quality Symptoms & Getting Proactive About Change

The average home could use serious help improving the indoor air quality. Unfortunately, not enough homeowners take this topic seriously enough and end up living with poor to terrible air quality. Knowing the symptoms can be a real eye opener because people realize…

Read More


Is Your Heating System Winter Ready?

It can be easy to miss that transition from summer to fall. Before you know it, lazy summer beach days are replaced with school days and you're already counting down the days to next summer. Yet, the problem is that if you fail to stay proactive about getting service for your heating system, it is going to be winter before you know it.…

Read More
If you are looking for a heating expert for your tune-up services, please call 803-345-5221 or 803-945-9620. You can also complete our online request form.