Relialbe Emergency AC Service Provider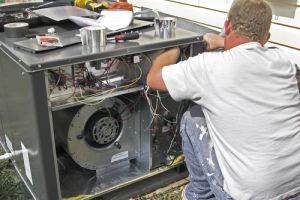 While no one wants to deal with the need for emergency AC service, at some point the need is going to arise. Obviously, the better care you invest into maintaining your cooling system, the less likely you are to run into problems. However, even the most meticulously kept cooling systems end up needing emergency work.
Our experts here at Richardson's Heating & Air are ready, willing and beyond capable of providing you with the service that you need. Our air conditioning company takes this line of work seriously and it shows in the results that we are able to deliver, for each of our residential and commercial clients. When you are in dire straights, it does not mean that you should have to sacrifice quality workmanship.
You can feel good about the level of quality that goes into our emergency work; it meets the same high standards our regularly scheduled service and maintenance does. Your total satisfaction is always our number one priority. We look forward to working with you and making sure that you get the service required to keep your system up and running.
Emergency AC Service Experts
How do you know that you are experiencing an event that constitutes as an emergency for your cooling system? Here are a few telltale signs:
If you notice a burning smell, it is time to discontinue use and give our pros a call. Burning means that an electrical problem has developed and you need a trained and experienced expert to handle the situation for you.
Generally, there is no reason for your air conditioner to make any noise. So if you notice that you are hearing new sounds, it is time to call for help. Most commonly, the noise you will hear is a screeching one, which can be the belt or compressor. Either way, it is something you should let us take care of.
Obviously, if your system is not working at all, this would qualify as an emergency. First, check to make sure the thermostat is on, as well as checking the breaker. If that is not the problem, call us immediately to get the problem resolved. Having functional air conditioning is not a luxury, it is a necessity.
Best Local Emergency AC Service Around
The team here at Richardson's Heating & Air wants to be the one that you feel you can rely on, when you need service. This is just as true for emergency AC service as it is standard service. We take this line of work seriously and it shows in the results that we get for our customers. When trouble creeps up, don't hesitate to call us.
Latest Articles
Poor Air Quality Symptoms & Getting Proactive About Change

The average home could use serious help improving the indoor air quality. Unfortunately, not enough homeowners take this topic seriously enough and end up living with poor to terrible air quality. Knowing the symptoms can be a real eye opener because people realize…

Read More


Is Your Heating System Winter Ready?

It can be easy to miss that transition from summer to fall. Before you know it, lazy summer beach days are replaced with school days and you're already counting down the days to next summer. Yet, the problem is that if you fail to stay proactive about getting service for your heating system, it is going to be winter before you know it.…

Read More
If you are looking for an air conditioning or heating expert, please call 803-345-5221 or 803-945-9620. You can also complete our online request form.