Irmo Air Conditioning Professionals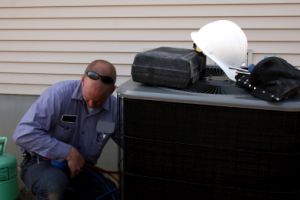 At Richardson's Heating & Air, we are honored to be the local leading service provider for heating contractor services, as well as other work. We offer a number of service types, on many different types of heating systems. Of course, one of the most important jobs that we do is the installation, because this is what sets the course for how well your heating will work, for years to come.
We offer installation for both residential and commercial clients, and for both new construction and in existing homes and businesses. Contrary to popular belief, there are ways to get the install wrong and cause the system to never function properly. In fact, a large number of heating systems have been installed wrong and are currently in a state of disrepair.
The problem is that most people do not realize that is the root of the problem. They think their high energy bills and frequent repair needs are related to shoddy equipment or normal wear and tear. Let us help set you up for success, from the first moment, by providing you with installation excellence.
Finest Air Conditioning Contractor Services in Irmo
Keeping your Irmo air conditioning system running in the summer, is just as vital as having operational heat in the winter. We take great pride in being able to help our local customers get the cooling service that they need.
The last thing that you want to do is end up with a cooling system that is on the fritz, during the peak of summer heat. In order to avoid that, you need to schedule tune-up work and address existing repair needs, in a prompt and professional manner.
Learn More About Improving Your Indoor Air Quality
Of course, let's not ignore the need for quality indoor air quality services, as well. Our air conditioning company cares about the health and well-being of our customers, which is why we offer service like:
A whole house dehumidifier is a great way to rid your home of excess moisture. This will cut down on the likelihood of other resulting problems, such as the development of mildew and mold.
For some homes, the opposite problem is true, and moisture needs to be reintroduced into the air. This helps with lubricating mucus membranes, reducing the length of time your illness lasts and even alleviating snoring.
A UV light air treatment system is the type of essential tool used in a hospital to cut down on the presence of germs, and now you can have one in your own home.
Latest Articles
Poor Air Quality Symptoms & Getting Proactive About Change

The average home could use serious help improving the indoor air quality. Unfortunately, not enough homeowners take this topic seriously enough and end up living with poor to terrible air quality. Knowing the symptoms can be a real eye opener because people realize…

Read More


Is Your Heating System Winter Ready?

It can be easy to miss that transition from summer to fall. Before you know it, lazy summer beach days are replaced with school days and you're already counting down the days to next summer. Yet, the problem is that if you fail to stay proactive about getting service for your heating system, it is going to be winter before you know it.…

Read More
If you are looking for an Irmo air conditioning or heating expert, please call 803-345-5221 or 803-945-9620. You can also complete our online request form.