Expert West Columbia Air Conditioning Contractors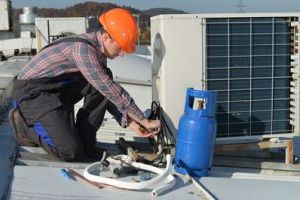 One of the most important responsibilities that you will need to address, as a home or business owner, is locating a reputable heating contractor to work with. All the way back in 1982, the hands-on experience behind the Richardson's Heating & Air name began. We understand the importance of ensuring that our customers get the topnotch service required, to get ongoing care and maintenance for their West Columbia heating and cooling systems.
With the right invested upkeep, your system should be able to deliver peak performance and maximum longevity. We offer a variety of essential services, such as heating installation, furnace replacement and heat pump repairs. Too many customers think that they have to choose between quality workmanship, customer service excellence or affordable pricing.
The good news is that, by partnering with our air conditioning company, you get all of the above. We do not just aim to meet your expectations, our goal is always to exceed them. Let us provide you with the quality work required, to ensure that you and your heating system, have a long happy life together.
Finest Air Conditioning Contractor Services in West Columbia
There is nothing more frustrating than going to crank up the cold air on a hot summer day, and finding it just can't deliver. One of the most common issues we deal with is air conditioning repairs. Here are some of the most common repairs we address:
Neglecting to address your need for maintenance is a big part of what leads to problems with your cooling system. Make it a point to schedule tune-up work, in order to avoid this from happening.
Did you know that failing to change your filters is another reason why your air conditioning system may not work right? Dirty filters restrict or block airflow, leading to the inability of your system to do its job properly, or at all.
The thermostat is the brain of your heating and cooling system so, when it is not working properly, your system won't either. Always check to make sure it is on and set to the right temperature, before calling on an technician to take a look.
Learn More About Improving Your Indoor Air Quality
Do not forget to address your need for improving the indoor air quality of your home, as well. Let the Richardson's Heating & Air team provide you with the information that you need, in order to get this taken care of. You and your family should be able to breathe easy, literally, and we are just the team to help make that possible.
Latest Articles
Poor Air Quality Symptoms & Getting Proactive About Change

The average home could use serious help improving the indoor air quality. Unfortunately, not enough homeowners take this topic seriously enough and end up living with poor to terrible air quality. Knowing the symptoms can be a real eye opener because people realize…

Read More


Is Your Heating System Winter Ready?

It can be easy to miss that transition from summer to fall. Before you know it, lazy summer beach days are replaced with school days and you're already counting down the days to next summer. Yet, the problem is that if you fail to stay proactive about getting service for your heating system, it is going to be winter before you know it.…

Read More
If you are looking for an air conditioning or heating expert in West Columbia, please call 803-345-5221 or 803-945-9620. You can also complete our online request form.