Newberry Heating Professionals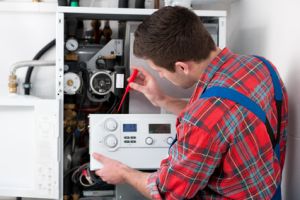 Richardson's Heating & Air is the only name that you need to familiarize yourself with, in order to get the exceptional results that you want, for your Newberry heating service needs. We take this line of work seriously, and that is evident from the customer satisfaction rating we have. Keeping your heating running, all winter long, is our number one priority.
We don't just believe in meeting the expectations of our clients; we work hard to exceed them. There is no reason to have to choose between quality workmanship, customer care excellence or affordable pricing. By making the wise choice to work with us, you get all of the above.
Since 1982, our heating contractors have been earning the reputation that we have by investing all of our effort into hard work and exceptional customer care. We take great pride in the work that we do, which you will soon be able to see for yourself when you partner with us. Let us take care of the service needs that you have, while also showing you what a difference true quality makes.
Finest Air Conditioning Contractor Services in Newberry
Getting expert work for your air conditioning is just as important. We offer the most vital of services, intended to keep your system up and running, such as:
Too many people fail to see the benefits of air conditioning tune-up work, until it is too late. A tune-up is a much more cost-effective alternative to costly emergency repairs. Let us make repairs and adjustments now, in order to prevent surprise ones, down the road.
The only way to get peak performance and maximum longevity, is by getting expert installation work. If your install job is not handled with meticulous care, you are not likely to get the level of quality service that you hoped for. Either way, why take the chance?
It is obviously important to also make sure that you address your air conditioning repair needs, in a timely fashion. Letting them linger will lead to higher utility costs, as well as the increased likelihood of being stuck with having to opt for premature replacement.
Learn More About Improving Your Indoor Air Quality
The Richardson's Heating & Air has become synonymous with customer care, which is why we offer services that are meant to enhance the quality of your indoor air. We want to be a part of helping you and your loved ones have access to clean, pure breathing air. We offer service like air cleaners and humidifiers, meant to improve your air, as well as your quality of life.
Latest Articles
Poor Air Quality Symptoms & Getting Proactive About Change

The average home could use serious help improving the indoor air quality. Unfortunately, not enough homeowners take this topic seriously enough and end up living with poor to terrible air quality. Knowing the symptoms can be a real eye opener because people realize…

Read More


Is Your Heating System Winter Ready?

It can be easy to miss that transition from summer to fall. Before you know it, lazy summer beach days are replaced with school days and you're already counting down the days to next summer. Yet, the problem is that if you fail to stay proactive about getting service for your heating system, it is going to be winter before you know it.…

Read More
If you are looking for a Newberry heating contractor, please call 803-345-5221 or 803-945-9620. You can also complete our online request form.