Trusted Mini Split Services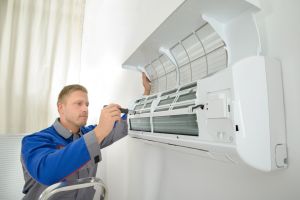 For some homes or businesses, the only possible approach to getting heating and cooling is the mini split system. So, whether it is a matter of preference or necessity, you should embrace your ductless heating and air conditioning system. This also means familiarizing yourself with the right expert to rely on, in order to get exceptional service.
Locals here know that the company to call on is Richardson's Heating & Air, and has been for over 25 years now. We work with both residential and commercial clients, providing expert service for everyone that we partner with.
Part of the work that we do is not just about the physical labor, it is about the work we invest into helping to inform our clients about the work we do and the options that they have. Let us provide you with the expert level quality so your system, no matter what kind you have, will last for years to come.
Our name has become synonymous with excellence; our reputation is flawless. We are able to accomplish this by focusing on the satisfaction of our customers, and doing whatever it takes to achieve that. Don't take chances or settle for less than the best, when ti comes to the heating and air conditioning system used to take care of your home or business.
Mini Split Experts
If you are not yet certain about some of the benefits of a mini split system, here are some things to keep in mind:
More consumers are opting for this type of heating and cooling system, because of its ability to be energy efficient. This is important because it helps to lower utility bills, but also is better for the environment.
Many people prefer the ductless system for the better ability to heat or cool individual rooms or zones. Unlike a central HVAC system, this more efficient and effective temperature control system, can be used to heat or cool just some of the rooms, or offer a more intense temperature level for desired spaces, without running up the energy levels for the entire home.
Because this system is relatively easy to install, it means that you do not have to pay as much for the installation service.
Best Local Mini Split Service Around
Want to learn more about a mini split system for your heating and air conditioning? Then now is the perfect time to call our experts here at Richardson's Heating & Air in order to find out more, or to arrange your ductless service. We look forward to working with you and ensuring that you get the best possible service.
Latest Articles
Poor Air Quality Symptoms & Getting Proactive About Change

The average home could use serious help improving the indoor air quality. Unfortunately, not enough homeowners take this topic seriously enough and end up living with poor to terrible air quality. Knowing the symptoms can be a real eye opener because people realize…

Read More


Is Your Heating System Winter Ready?

It can be easy to miss that transition from summer to fall. Before you know it, lazy summer beach days are replaced with school days and you're already counting down the days to next summer. Yet, the problem is that if you fail to stay proactive about getting service for your heating system, it is going to be winter before you know it.…

Read More
If you are looking for ductless mini-splits, please call 803-345-5221 or 803-945-9620. You can also complete our online request form.