Trusted Furnace Replacement Contractors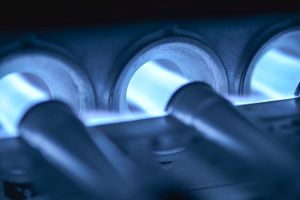 One of the big concerns we notice here at Richardson's Heating & Air, is that many clients are leery of opting for furnace replacement. There has been one too many a horror story in which an unsuspecting homeowner trusted a so-called heating pro, and got duped into replacing their old heating system, even though repairs would have sufficed.
There is nothing wrong with being cautious. But you should also make it a point to choose the heating contractor you work with carefully enough to be confident in the diagnosis they deliver.
A genuine and well-meaning industry expert only has your best interest in mind, not their wallet. Because, on the other hand, you do not want to settle for more expensive repairs when you have already racked up enough of a repair bill to have replaced your outdated heating system. It is true that some less-than-reputable technicians may suggest replacement for the wrong reasons.
The two main motivations for this type of incorrect analysis would be personal financial gain or a lack of comprehension of the field to be able to accurately identify the root of the problem. So make it a point to call on a reputable and seasoned industry expert, and you will never have to worry about this happening to you.
Furnace Replacement Experts
Wondering if you need to replace your furnace or opt, yet again, for repairs? Here are some things to keep in mind:
Age is not just a number, it can be a helpful tool in determining if your furnace should be replaced or not. The average lifespan of a furnace is approximately 15 years. If your heating source is nearing that age, it might make more sense to go ahead and opt for replacement instead of pumping more money into it.
Take into consideration the cost of the repairs and the current value of your system. If the expense of fixing your system would be 50% or more than the current value, it is not financially viable to opt for repairs. Take the money and invest it into a new furnace.
If your heating bills are just too high, or you have been wanting to transition to a newer, more energy efficient system, these are also great reasons to go with replacement.
Best Local Furnace Replacement Service Around
Richardson's Heating & Air is a name that you can trust. We are dedicated to providing service excellence for each of our clients, which starts with the diagnosis and feedback we offer you. You can feel confident that if we tell you that you need furnace replacement, it is the same analysis we would give our own mom.
Latest Articles
Poor Air Quality Symptoms & Getting Proactive About Change

The average home could use serious help improving the indoor air quality. Unfortunately, not enough homeowners take this topic seriously enough and end up living with poor to terrible air quality. Knowing the symptoms can be a real eye opener because people realize…

Read More


Is Your Heating System Winter Ready?

It can be easy to miss that transition from summer to fall. Before you know it, lazy summer beach days are replaced with school days and you're already counting down the days to next summer. Yet, the problem is that if you fail to stay proactive about getting service for your heating system, it is going to be winter before you know it.…

Read More
If you are looking for furnace replacement services, please call 803-345-5221 or 803-945-9620. You can also complete our online request form.