Humidifier Versus Dehumidifier - Which One is Right For You?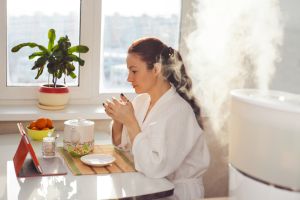 Making the decision to improve the indoor air quality of your home is a smart move to make. There are plenty of options available to make that possible. However, two of the most popular ones are the humidifier and the dehumidifier.
Yet, without doing any research, it would be difficult to understand the difference, as well as understanding the benefits each one has to offer. Don't let that stand in the way of pursuing getting the appropriate one in place for your home. This could very well be the difference between your and your family finally enjoying total health.
What You Need to Know
The first and most important thing to know is what the two types of whole-house systems have to offer:
Humidifiers - A humidifier reintroduces moisture back into the air. While this is especially important during winter months when the heating system tends to make the interior environment more arid, it is beneficial all year long. This is also especially important for anyone suffering from asthma, allergies or other breathing related health issues, but can help anyone. This helps in ways such as reducing the spread of viruses, lubricating and soothing mucus membranes and even helping to alleviate snoring. You will literally be able to help the difference, almost immediately.
Dehumidifiers - So, unlike a humidifier, a dehumidifier removes excess moisture from the air. Many people notice the signs of excess moisture, which is what makes it obvious a home is in need of this type of system. Condensation on the inside on your windows, mildew and mold or water stains on walls and ceilings are all red flags that you could benefit from having a dehumidifier.
The bottom line is that, in most cases, your home is one or the other. Occasionally, having both in place to switch back and forth between, like heating and cooling, could be the right answer. The best thing that you can do is make it a point to partner with a local Lexington industry expert to work with, in order to get the results that you want, need and should be able to expect.
Finding the Right Expert
At Richardson's Heating & Air, we take great pride in being able to offer the best options for indoor air quality. We want to be able to help you and your family by improving the indoor air quality in your household.
There is no reason to settle for poor quality air, when our heating & air conditioning company can rectify the situation for you. Get in touch with us today, in order to find out more about what we have to offer.
If you are looking for humidifier or dehumidifier services, please call 803-345-5221 or 803-945-9620. You can also complete our online request form.